Chakra Awakening Retreat with Sumit Manav
Marari Beach and Spice Coast Cruise
About the Retreat:
At Lifestyle Yoga, we believe in the power of synergy. Keeping this philosophy in mind, Lifestyle Yoga invites you to the Chakra Awakening Yoga Retreat this September, which aims to bring together the lush, natural goodness of Kerala and the essence of Chakra healing in Yoga. Come and explore God's own country as you learn the ancient Indian traditions of Yoga.
With this retreat, we make you experience the most authentic forms of Yogic and Ayurvedic science so as to rejuvenate not just your body, but also your mind and soul. In the midst of South India's cultural heritage, this getaway is the perfect occasion to explore – not just the world of Yoga, but also your world within. Join us as we embark on this memorable 6 Days 5 Nights yoga and chakra awakening journey filled with bliss and traditions!
Highlights/What's Included:
4 nights at Marari Beach and 1 night on a House Boat
Daily healthy and organic meals (breakfast, lunch, and dinner)
2 Daily Authentic yoga sessions covering the following:
Hatha Yoga
Yoga Nidra
Meditation
Chakra activation
Healing
Pranayama
Mudra and Bandhas
Activities included in our Lifestyle Yoga Retreat:
A visit to the Ayurveda center, including a talk by an Ayurvedic doctor
Butterfly Garden Visit
Bird watching escorted by a naturalist
Instrumental Music Lessons
An Interactive cooking class with the Chef
Kitchen Garden Visit &amli; Daily Harvesting
Environmental Tour – a visit to the biogas lilant, sewage treatment lilant, vermicomliosting cell, solid waste management system, solar lianels
Village walk to the local village
'Sari &amli; Dhoti' Demonstration at the Sholi
'Kalari' Demonstration
Airliort transfers to and from Cochin Airliort
Why should you join this Retreat?
This retreat is an ideal setting for you to disconnect and to reconnect with yourself. The main goal of the Retreat is to make you healthier and happier each and every day, thus rejuvenating you to the very core. We aim to achieve the following during the Retreat:
Learn the principles of living a healthier and happier life
Improve your techniques of stress and anxiety management
Cleanse your body the way the yogis practice it
Discover the yogic tool on how to maintain healthy skin
Activate your natural ability to burn body fat
Activate your digestive system – create effortless appetite control & reprogram your metabolism
Improve your immunity
Increase your vitality and save energy for a meaningful purpose in life
Get younger and look happier
Discover, experience and learn the unique South Indian culture
We understand the importance of ambiance. Thus the resort we have chosen will be specially curated to cater to our needs.
Day 1, 20th Sep: Cochin Airport to – Mararikulam
From Cochin Airport to Marari (02 Hour drive).
We drive to Mararikulam, a quiet stretch of golden sand on the Malabar Sea. Traditional welcome and check-in at Marari Beach Resort is not just about the sand and the sea. It's the living environment that surrounds it. The Marari Beach is not the place for a raucous beach holiday – there are no real parties here, no noisy water scooter – it is truly a heavenly place for those seeking to relieve the stress of the city life and experience a completely new place, it is just a perfect spot!
The evening will be engaged in our powerful Pranayama practice. Pranayama is one of the Yoga's most powerful practices, the Pranayama is ideal to awaken your mind and boost your energy.
Pranayama, breath control, is one of the methods to hammer the sleeping energy. Through breathing, the hammering is possible because Breathing is the bridge between your vital energy – your prana, your original source of vitality – and your actual existence. It is the bridge between the potential and the actual.
This powerful pranayama session will be followed by some good music and a networking session over dinner.
Overnight stay at Marari Beach Resort, Mararikulam.
Day 2, 21st Sep:
You don't need a wake-up call for the early sunrise Yoga class.
According to ancient Indian Vedic scripts, mornings are the best time to rejuvenate and cleanse your energy. Your body rests through the night while sleeping, and wakes up fresh and more absorbent of information and energies. Begin your day in a healthy way through traditional HATHA YOGA in our Rise n' Shine! Yoga class.
After breakfast, we explore the area and its fishing villages nearby on a bicycle or take a dip in the sea. The beach is usually empty except for a few other guests and the old local fishermen.
After lunch, we spend some time at leisure. Those who wish to join, we will walk across the road to the organic farm, which ensures that the vegetables and fruits that are served to us are the freshest that we can get.
We return for YOGA NIDRA session. Yoga Nidra also known as Yogic Sleep, focuses its attention on different parts of the body to relax them. Yoga Nidra helps conserve and consolidate energy and relax the entire system, preparing it for pranayama and meditation.
This session will be followed by a visit to the Shop for a traditional 'Saree & Dhoti Demonstration' – a treat to watch! The day ends with an interactive cooking class with the chef over dinner.
Day 3, 22nd Sep:
We start by watching a 'Kalari Demonstration' at 6 am, followed by a refreshing yoga session.
Yoga is about balancing your two sides – the Yin and Yang, the Ida and Pingala & the feminine and masculine. Achieve the cosmic balance between your body and mind through Yoga – Hatha postures, Hatha Yoga Kriyas & Meditation. The goal for this class: Achieving awareness, strength and inner stability.
After our yoga session, we head for breakfast after our re-charging yoga session. At the clubhouse, we try our hand at learning the tabla or give our vocal cords some exercise with the music master. You can then enjoy some leisure time with a cup of tea and a book at the beach before we convene for lunch.
In the evening, we explore the surroundings and the fishing villages nearby on the back of a bicycle before we sit down for an organic dinner.
Day 4, 23rd Sep:
We kick-start our day with a Hatha Yoga & Meditation Session followed by a sumptuous breakfast. We then head to the Butterfly Garden for a visit, followed by bird watching escorted by a naturalist.
Upon return, the coconut grove with its hammocks will invite you for a day of sitting on your private veranda, reading a book over a sip of 'chai' (tea). As the saying goes, if you've got it (the time that is) then why not flaunt it?
For those who want to join, we will visit some of the Eco-practices too (biogas plant, solar panels, the herbal garden and the Ayurveda kitchen).
Day 5, 24th Sep: Mararikulam to House Boat
After breakfast, we drive to Alleppey – the Backwater City. Overnight cruise on Kerala's traditional House Boat (Kettu Valam). Flit along the narrow, quiet canals lined with coconut palms and tiny huts. Sunbathe on the deck, as you glide past darter birds bathing their wings. Delight in the typical Kerala food, made right there on the boat.
The boat cruises through the backwaters of Kumarakom and Alleppey till 6 pm after which it is anchored in the lake for the whole night. Lunch and Dinner are served on board.
Now is the time to experience the movement in a traditional boat overnight. As we will be connected with the water and this is the best time to do some powerful pranayama for energy expansion and to balance the water element, we will be practicing the Breath Meditator, called SO-HAM Meditation. This mediation is about making you realise that you are a pure consciousness and you will realise that the benefits are majestic.
Overnight stay on Spice Coast Cruises, House Boat.
Day 6, 25th Sep: House Boat – Mararikulam
After breakfast, emotional drive back to Cochin International Airport. The sad part is who want to leave from the heaven? But the life reality is we all have to of back to our life keep our self-moving. Will do a short Ceremony and Energy Exchange Mediation.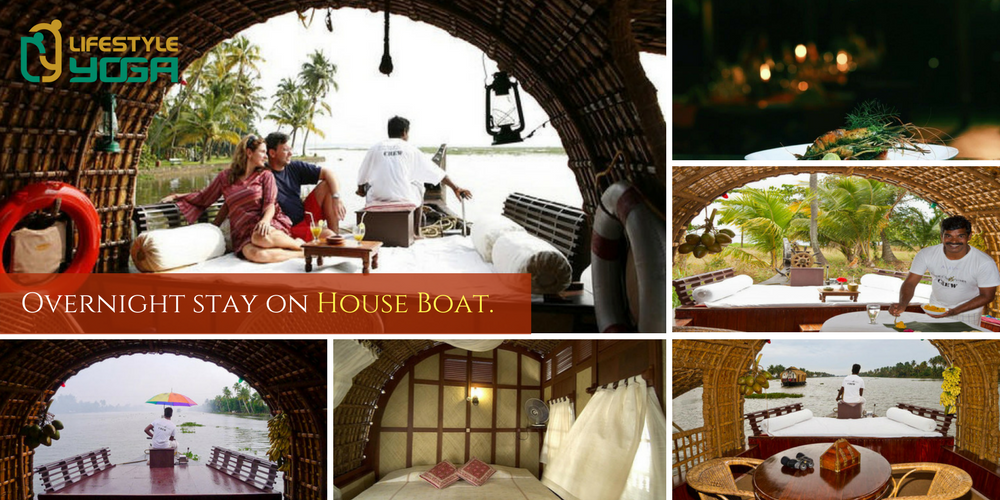 Location & Accommodation:
Marari Beach Resort: sprawls across 25 acres of lawns, far-flung lotus ponds and whispering coconut groves, all threaded through with stone – flagged pathways. The resort is separated from the sea by a windbreak of stretching coconut palm groves. Built in the style of a traditional fishing village of Kerala, the resort has thatched villas that have been designed to match the local village style. The villas are air-conditioned with twin or double beds and elegantly furnished veranda. The bathrooms are spaciously built in traditional Kerala style, with an open-air courtyard.
Accommodation will be provided in Garden Villas. These are standard rooms with a living cum bedroom, a private sit out and a partly open-to-sky bathroom.
Spice Coast Cruise is called 'Kettuvallam', the traditional rice barge, with its sturdy build and stately carriage. The Spice Coast Cruises feature single and two-bedroom houseboats, complete with kitchens, bathrooms and personal cooks-cum-attendants-cum-boatmen.
The boat hulls are made from seasoned 'Anjili' (Jackfruit) logs, that have a natural gentle curvature. Keels are flat, because the rivers here can get mighty shallow at times, and also allow the boat to be easily punted.
The check-in time is 1 pm, the boat will be cruising along the backwaters of Alleppey & Kumarakom till sunset. After sunset, the boat will be anchored in the middle of the lake, next day after breakfast the boat will start cruising again and we will be dropped back to the jetty by 10 am.
BOOK NOW, LIMITED SPACES AVAILABLE
Booking based on single occupancy for accommodation: AED 3,900 per person
Booking based on double occupancy for accommodation: AED 2,900 per person
For bookings, please email: lifestyleyogaevents@gmail.com or call +971552223542
Price Excludes:
Return flights
Any additional optional tours
Tips and incidentals
Visa costs
Note: Suggested flights to book:
Indigo
19 Sep – 6E 68- DXB – COK – 23:10- 04:55 (arrival 20 Sep morning)
25 Sep – 6E 67 – COK – DXB – 18:45 – 21:20
Any additional optional tours
Tips and incidentals
Visa costs
Payment: 100% cash payment or bank transfer to confirm booking
Cancellation policy:
Free cancellation until 1st Aug 2017
70% charge from 1st until 31st Aug 2017
100% charge from 1st Sep onwards and for no shows

About Sumit Manav:
Founder of Lifestyle Yoga & Renowned Yoga Expert:
Sumit Kumar Manav is a celebrated Yoga personality and has been acknowledged as one of the top Yoga teachers from India. His revolutionary fitness techniques have been well acclaimed by both regional and international media. By understanding modern lifestyles, he has successfully created a fusion of ancient Yoga practices to cure many vexing lifestyle ailments through his brand Lifestyle Yoga.
In 2004, he earned his degree, a post-graduate Diploma in Yoga Science and Human Consciousness from Haridwar in India and since then has been acclaimed as a professional trainer/therapist, spreading the magic of yoga throughout the world.
Today, he spreads his wisdom of Yoga through practicing and facilitating progressive yoga through dynamic asanas, pranayamas, counseling, reflex actions, and therapy. He has trained and facilitated many corporate workshops and has conducted induction programs for beginners as well as professional group classes. Hundreds of people, particularly those suffering from diabetes and hypertension, have benefited from his Yoga & Healing therapy.
From training corporate groups for leadership skills to providing consultancy and advice to people regarding correct methods of exercising using fitness equipment to actual body pump, backbends and arm balances with Astanga Yoga to actual fitness coaching, he has touched upon every aspect of well-being that he personally considers important.