Pause, Renew & Rejuvenate
Experience profound nourishment, relaxation,
and support during this all-inclusive Ayurvedic
wellness retreat.
Where your wellness is our absolute concern!
November 18th from 10:30am -2:00pm
Awaken your sleeping energy, your strengths, your intuition, your passion and your tremendous mind power!
This comprehensive Yoga, Meditation & Sound Healing program is for everyone who seeks to experience true peace within and to explore the power of body & mind. 
Join us for an incredibly full-day retreat in Shangri-la hotel, filled with Yoga, Chakra Meditation & Breathwork, Yog-Nidra and massage with like-minded people
RECLAIM YOUR INNER CALM & JOY
Discover your power to regain, recharge and rejuvenate
RESTORE YOUR BALANCE
This 1-day yoga & wellness retreat provides you with relaxing and rejuvenating services that will support you in your journey to creating renewed wellness and balanced life.
NOURISH YOUR BODY & MIND
Get away for a weekend of an authentic yoga routine, sound healing & breathwork, designed to help you unwind and refresh.
REJUVENATE YOURSELF
Enjoy the personal attention of our experienced team of wellness yoga & professionals, here for you every step of the way as you discover your own potential to heal and restore.
This Yoga & Wellness Retreat Includes:
Meet Your Yoga & Wellness Guides
The Pause, Renew & rejuvenate retreat is overseen and managed by Sumit Manav. Sumit's journey began at the early age of 14 in a North Indian town in Uttar Pradesh (India). He then proceeded to the Himalayas, where he discovered Yoga as the path to human consciousness and overall well-being, under the spiritual guidance of Guru Shreeram Sharma Acharya. During his training, Sumit interacted with the mystics and it was this experience that brought him closer to understanding the physiology and psychology of the human body. In
2005, he earned his Post Graduate Diploma in Yoga Science and Human Consciousness from Haridwar in India, following which he started practicing as a professional Yoga Instructor. Today, with over 20 years of experience, Sumit continues to spread his wisdom of Yoga across the world (with his primary base in Dubai, UAE & the United Kingdom) by practicing and facilitating progressive yoga through dynamic asanas, pranayamas (breathing), meditation, spiritual and yogic counseling, reflex actions, yoga therapy and corporate wellness.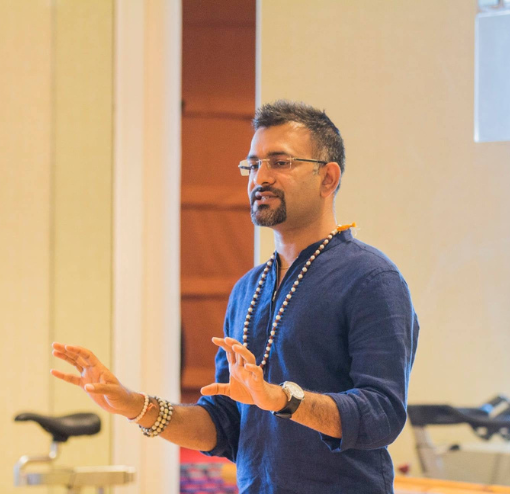 Hatha yoga and Kriya yoga meditation hold a special place in my practice. I have had the privilege of learning from esteemed Gurus and teachers, and I am certified from the renowned Kaivalyadham Yoga Institute. My deep interest in yoga tradition and philosophy has led me to delve into various disciplines, including psychology, anatomy, physiology, Hatha yoga texts, and philosophy.
Meditation has been an integral part of my journey, and I have studied under the guidance of esteemed Gurus in India. From Vipassana meditation to TM meditation, mindfulness to Kriya yoga, and tantra meditation, I have explored diverse techniques. My master, Shri Shri Paramhansa Yogananda ji, has been a profound influence on my spiritual path.