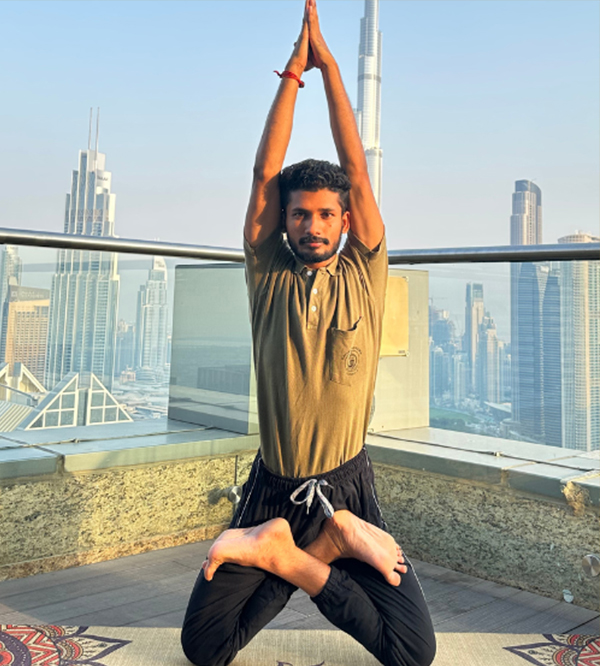 A Dedicated Yoga Practitioner and Teacher
Namaste! My name is Ankit Kumar, and I am a passionate yoga practitioner and traditional Hatha yoga and meditation teacher. With over 10 years of experience in the field of yoga, I have been teaching for the past 4 years. For me, yoga is not just a physical exercise but a profound path of spiritual evolution.
Hatha yoga and Kriya yoga meditation hold a special place in my practice. I have had the privilege of learning from esteemed Gurus and teachers, and I am certified from the renowned Kaivalyadham Yoga Institute. My deep interest in yoga tradition and philosophy has led me to delve into various disciplines, including psychology, anatomy, physiology, Hatha yoga texts, and philosophy.
Meditation has been an integral part of my journey, and I have studied under the guidance of esteemed Gurus in India. From Vipassana meditation to TM meditation, mindfulness to Kriya yoga, and tantra meditation, I have explored diverse techniques. My master, Shri Shri Paramhansa Yogananda ji, has been a profound influence on my spiritual path.
I am thrilled to be part of the Lifestyle Yoga family, where I aim to share my knowledge, experience, and love for yoga with dedicated practitioners. Join me on this transformative journey, where we embrace the holistic essence of yoga and nurture the mind, body, and spirit.
Let's embark on a path of self-discovery, spiritual growth, and inner harmony through the profound practice of yoga. Together, we can create a space for wellness, balance, and enlightenment.
Join me for empowering yoga sessions and dive into the depths of your practice. Together, let's unlock the transformative power of yoga and discover our true potential.
Yoga Teacher Training
90%