PRANAYAMA BREATHWORK TEACHER TRAINING ONLINE
BECOME A INTERNATIONALLY CERTIFIED
PRANA COACH WITH SUMIT MANAV
Take your passion for Yoga to the next level by deepening your prana practice, expanding your prana, and learning how to teach the power of prana & pranayama and passing your Yogic knowledge to the world.
Try this Breathwork Session to have more clarity with Sumit Manav.
We never share your information
Lifestyle Yoga invites you to join 50-hr Online Pranayama Teacher Training, covering 50 hours of training into becoming a Prana & Breathwork Coach.
Take your passion for Yoga to the next level by deepening your prana practice, expanding your prana, and learning how to teach the power of prana & pranayama and passing your Yogic knowledge to world.
Pranayama is one of Yoga's most powerful practices, which is ideal to awaken your mind and boost your energy.
The aim of this course is to improve your Prana knowledge, expand your Prana and simultaneously work on many layers of Yoga to strengthen your confidence and solidify your inner voice. This 50 hour course will focus on the effects of Pranayama on your physical, mental and emotional levels. You will also learn the different techniques of breathing along with their benefits.
It is very easy to be trained and practice yoga posture, follow a diet plan or exercise regime, however very few actually learn and train in Prana science, which is a vital life force.
This course is designed in accordance with the Yoga Alliance USA and will be led by Sumit Manav (a Yoga expert & Founder of Lifestyle Yoga) who will assist you to master the fundamentals of Pranayama.
WORLDWIDE YOGA ACCREDITED CERTIFICATION
Teach worldwide or wherever you would like to with our accredited course. After completion of the course, you will receive an internationally accredited Yoga teacher certification.
Prana is the vital force that sustains not only in the body, but also creation at every level. The Sanskrit word 'prana' is combination of two syllables pra meaning forth & an meaning movement or to breathe, which explains that this is a force in constant motion.
The science of Pranayama was developed by Yogis through an intuitive and experimental understanding of Prana and its influence on the human mechanism at various levels. The flow of breath was used to access the Pranic field, in order to attain balance in the body and control the mind.
Facts about Prana and Pranayama
Humans can survive without food for about 3 weeks and without water for about 3 to 4 days. However, survival without breath is impossible.
Prana & breathing has a major impact on our system. Few minutes of conscious breathing can affect the entire nervous system.
Pranayama is a science which provides methods to understand the signs of Prana and to guide it within oneself as well as the rest of creation.
Swami Sivananda says, he who has grasped Prana has realised the very core of cosmic life and activity. He who conquered and control this essence is able to control his body and mind, as well as every other body mind and power in this universe.
Thus, Pranayama is that means by which the yogis realises the cosmic life in this little body and tries to attain perfection.
The medium of Pranayama is breath. The practises involve guiding the respiration beyond its normal limit, stretching it, speeding it up and slowing it down in order to experience the full range of respiration. Once this has been achieved, Prana can be guided further by the practice of Prana Vidya.
A modern yogi, with a vision & mission of spreding health, happiness and peace to the world. A celebrated Yoga personality, acknowledged as one of the top 10 Yoga teachers from India. His revolutionary fitness techniques have been well acclaimed by both regional and international media. By understanding modern lifestyles, he has successfully created a fusion of ancient Yoga practices to cure many vexing lifestyle ailments through his brand Lifestyle Yoga.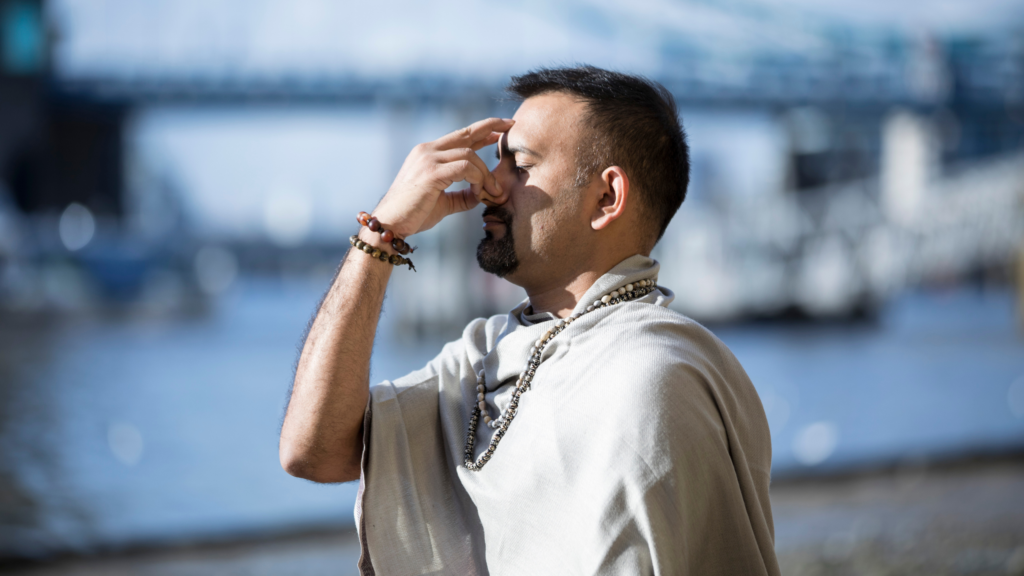 Understanding Prana & Physiology of the Respiratory System
Yogis Physiology of the Nostril
Impact of Pranayama on Human Mind & Body (in practice):
Importance of three Bandhas in Pranayama/kumbhaka
Prnayam Benefit & Practice
Online 50-Hour Pranayama Teacher Training Fees
50-Hr Online Pranayama Teacher Training
50-Hour Pranayama Teacher Training

Certification on completiion

Full cousre taught by Sumit Manav
Frequently Asked Questions
What are the prerequisites for this course?
There are no prerequisites. This course is designed for students from all levels and from all backgrounds.
Can I teach breathwork & pranayama after this course?
Yes. You will be presented with tools, skills and knowledge to be able to teach breathwork and pranayama with confidence.
Yoga Alliance USA and World Yoga Alliance
Is this course only for yoga teachers?
Not at all, anyone can follow this course who wants to learn breathwork and ancient pranayama.