Aqua Yoga & Detox Retreat
June 11th, 2022
Have you ever caught yourself trying too hard to hold a pose? Have you ever wondered if it would ever be possible to just float into a position with grace and ease, instead of sweat and jittering muscles? Well, there is – and one to alleviate all of the physical and mental anguish that comes with some of the more advanced poses – it's water.
Join us for another Half-Day Yoga Retreat at Motor City a Yogaful day of Aqua Yoga, Yoga Nidra, Detox Yoga, and more! Destress & energize your mind, body & soul with this half-day Yoga retreat in the heart of Dubai.
Retreat Details:
11.00 am – Detox Yoga Session with Sumit Manav
12:00 pm – Pranayama to Recharge with Tanu
12.30 pm – Break
12:45 pm – Yoga Nidra or Psychic Sleep with Sumit Manav
1:30 pm – Aqua Yoga with Sumit Manav
2:00 pm – Detox Juice
Detox Yoga:
Experience the amazing detox yoga flow to heal and clean your body from the inside out. With each of these 60-minute long classes, you'll quickly improve your breath, circulation, digestion & elimination of Toxins.
Prana & Pranayam is considered to be one of Yoga's most powerful practices, the Pranayama is ideal to awaken your mind and boost your energy. This workshop focuses on the effects of Pranayama on your physical, mental and emotional levels. You will also be learning the different techniques of breathing along with their benefits. Thus, strengthen your practice with the most powerful Breath Pranayama and explore the power of Yoga within!
Aqua Yoga:
Aqua Yoga is a gentle and very low impact aquatic activity. Aqua Yoga takes the principles and movements of Yoga and adapts them to the water environment. With the release of gravity, the body is able to find the optimum stretch. By using the rhythm of the breath an inner sense of relaxation can be achieved.
Yoga Nidra
Yoga Nidra also known as Yogic Sleep, focuses it's attention on different parts of the body to relax them. Yoga Nidra helps conserve and consolidate energy and relax the entire system, preparing it for pranayama and meditation.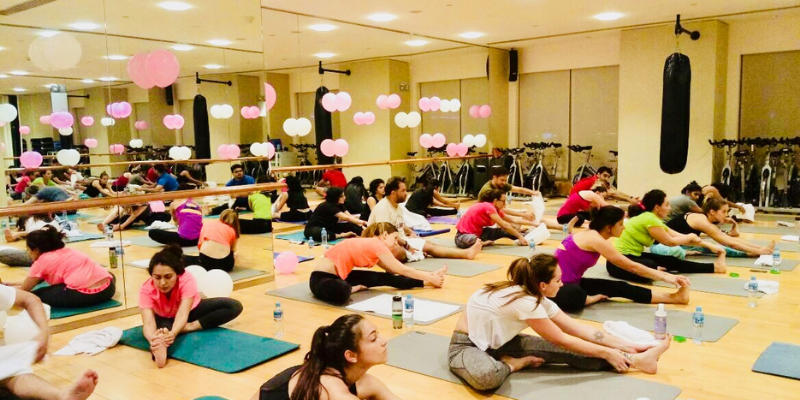 Lifestyle Yoga Founder & Lead Instructor
Address: Lifestyle Yoga at Shangri-la Hotel.
You are just one step away to make your Saturday blissful.
Call on: 0566241002
AQUA YOGA & DETOX RETREAT
Relax, Rejuvenate & Recharge