20-HOUR CHAKRA AWAKENING COURSE
Starting on November 4th, spanning over three consecutive weekends.
Awaken Your Chakras and Transform Your Life with This 20-Hour Chakra Yoga Course
Lifestyle Yoga warmly welcomes you to embark on a transformative journey where you will not only learn but also master the art of chakra balancing, enhancing your overall health and well-being, and manifesting your deepest dreams and aspirations."
We never share your information
Starting on November 4th, spanning over three consecutive weekends.
"Discover the life-changing impact of our 20-Hour Chakra Awakening Course through the words of our students. Their testimonials speak volumes about the transformative journey you can embark on with Sumit Manav."
I was seeking balance and purpose in my life when I decided to take the 20-Hour Chakra Awakening Course with Sumit Manav. It was a life-altering experience! Sumit's profound knowledge, combined with his genuine compassion, guided me to discover my true self. My chakras are aligned, and my life is filled with newfound clarity and positivity.
Sumit's course was a revelation for me. His teachings went beyond the theoretical, diving deep into practical exercises that helped me understand and harness the power of my chakras. I feel more connected to my inner self and have found the courage to pursue my passions fearlessly.
I cannot express my gratitude enough for Sumit's Chakra Awakening Course. It's not just a course; it's a journey of self-discovery. I've learned to heal past wounds, release negative energy, and tap into my inner strength. I've never felt more alive and balanced.
As a yoga teacher myself, I was intrigued by chakras but had limited knowledge. Sumit's course deepened my understanding and gave me practical tools to incorporate into my classes. My students have noticed a positive shift in their practice, and I owe it all to Sumit's teachings.
Sumit's course was an oasis of calm in a hectic world. I found solace and transformation in his teachings. The practices I learned have become an integral part of my daily life. I'm more grounded, peaceful, and better equipped to handle life's challenges.
The Chakra Awakening Course was a game-changer for me. I've experienced tangible shifts in my energy, health, and mindset. Sumit is a true master, and his course is a must for anyone looking to enhance their well-being and spiritual growth.
Are you ready to awaken your chakras and transform your life? This 20-hour yoga course will teach you everything you need to know about the chakras, including their location, function, and how to balance them. You'll also learn a variety of yoga poses, breathing exercises, and meditation techniques that will help you to open and activate your chakras.
"Awaken your inner energy, align your chakras, and unlock the gateway to profound transformation in our Chakra Awakening Course. Discover the power within."
Embark on a transformative 20-hour Chakra Awakening Course! Dive into the realm of chakras and experience profound mind-body alignment. Join our expert instructors with over 25 years of experience as they guide you on this enlightening journey of self-discovery.
This comprehensive course aligns with the principles of Yoga Alliance USA and will be personally led by Sumit Manav, a renowned Yoga expert and the Founder of Lifestyle Yoga. Get ready for an unforgettable exploration of the chakras and their transformative power.
This course is perfect for anyone who wants to:
Improve their physical and mental health
Reduce stress and anxiety
Increase energy and vitality
Improve their relationships
Manifest their dreams
Teach Chakra Meditation and Understand the Science
Whether you're a beginner or an experienced yoga practitioner, this course is for you. Join us today and start your journey to chakra awakening!
Is This Course Your Ideal Journey?
Whether you're taking your first steps on the path of chakra exploration or you're an experienced yoga teacher looking to expand your chakra wisdom, if you have a profound curiosity about the intricacies of the Energy Body, the transformative power of Chakra Healing/Yoga, the secrets of Seed Sounds & Mudras, and the profound practices of Breathwork & Meditation, then this course is your guiding light.
Here, we embrace seekers of all levels, from beginners seeking to unlock the mysteries of the chakras to seasoned practitioners eager to deepen their understanding. Welcome to a transformative journey that transcends boundaries and welcomes every soul in pursuit of wisdom and self-discovery. 
Lifestyle Yoga Chakra Course: Comprehensive Details
In this Chakra Course, we provide you with an in-depth Chakra Masterclass consisting of 6 transformative workshops. Upon successful completion of the entire 20-hour course, Yoga Alliance accredited yoga teachers will be eligible to earn 20 valuable Yoga Alliance continuing education credits (YA CECs).
At Lifestyle Yoga, we are dedicated to empowering you with comprehensive knowledge, ensuring your journey into the world of chakras is both enriching and professionally recognized.
This Advance yoga course is spread out over four 3-weekends. You will study practicel, reserach and theory  for 3- 4 hours  for 6-Days. It is advisable to take part in all 6-Days to understand & learn about the whole Chakra Course.
From Nov 4th: 10am to 1pm, Nov 5th: 10am to 1pm, Nov 11th: 10am to 1pm, Nov 12th: 10 to 1pm, Nov 18th: 10am to 1pm and nov 19th 10am to 1pm
---
Shangrila hotel: Lifestyle Yoga Studio, Dubai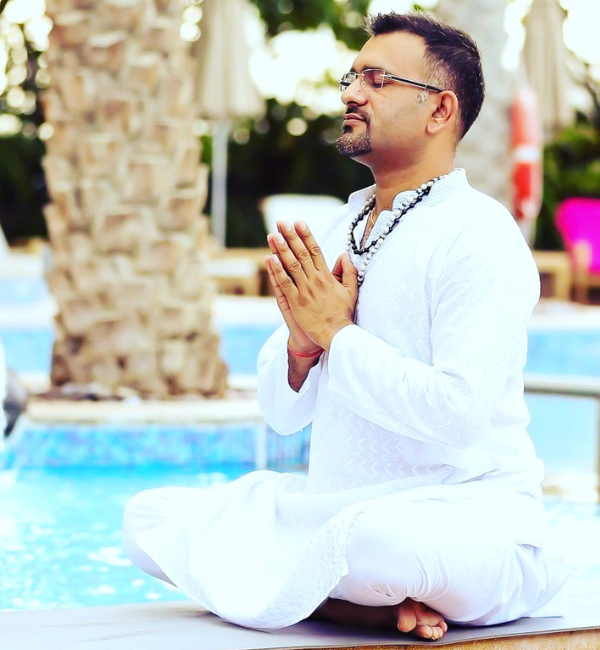 Chakra Awakening Course Module:
Chakra Science Unveiled (2 hours)
Explore the intricate science behind the chakras and their profound impact on your physical, mental, and spiritual well-being.
Science and awakening of root chakra
Ancient Method of awakening chakras 
Types and process of chakra awakening 
Prana - The Life Force Energy (3 hours)
Dive into the mystic realm of Prana, the vital life force that sustains all creation.
Learn to harness and amplify Prana for vitality and healing.
Science and awakening of Sacral Chakra
Asana flow for Sacral Chakra 
Module 3: The Five Pranas - Breath of Life (4 hours)
Discover the five distinct Pranas within you and their unique roles.
Harness their power for balance, vitality, and heightened awareness.
Science and awakening of Solar Plexus
Asana flow for Solar Plexus
Kriya, Mudra & Bandhas for Solar Plexus activation
Awakening Shakti - The Divine Feminine Energy (3 hours)
Awaken the dormant Shakti energy within, unleashing creativity, power, and transformation.
Experience the divine dance of Shakti within your being.
Science and awakening of Heart Chakra
4- forms for Awakening 
Asana flow for Heart Chakra 
Tantra - The Sacred Path of Unity (4 hours)
Delve into the profound teachings of Tantra, merging the individual with the universal.
Embrace tantric methods for spiritual growth and union.
Science & Awakening of Throat Chakra
Asana, breath flow for Throat Chakra
Rules & Preparation (4-hours)
Dive into esoteric practices for heightened awareness and transformation.
Diet, timing, place of practice, clothing and regularity 
Asana  & breath Flow for Chakra and Kundalinin Awakening
Science and awakening of Third Eye and Crown Chakra
20-Hr Chakra Awakening Course
20-hour Training in person

Chakra Course Certificate
20-Hour Chakra Awakening Course
20-hour Training in person

Chakra Course Certificate
Frequently Asked Questions
Who is this course suitable for?
This course is suitable for anyone interested in understanding and harmonizing their energy centers, whether you're a beginner or an experienced practitioner or a yoga teacher,
Who Can Join and What if I'm Not a Teacher Yet?
Not a problem at all. The vast majority of trainees in this course have no background in Yoga. This course will lead you step-by-step through everything you need to know to start teaching your loved ones or professionally!
To join the course, we recommend participants:
18 years & over
Prior knowledge and experience of any style of yoga will be helpful
A burning desire to grow and learn in the field of Yoga
Is any prior yoga or meditation experience required?
No prior experience is necessary. The course is designed to accommodate participants of all levels.
Will I receive a certification upon completion?
Yes, participants who successfully complete the course will typically receive a certificate of completion.
Can I ask questions or seek guidance during the course?
Yes, our instructors encourage questions and provide guidance throughout the course to enhance your understanding and practice.
What should I expect after completing the Chakra Awakening Course?
Participants often report increased self-awareness, improved energy flow, reduced stress, and a deeper connection to their inner selves. The course equips you with valuable tools for continued personal growth and well-being.
Is this course aligned with any specific spiritual or religious beliefs?
Chakra awakening is a holistic practice that transcends specific spiritual or religious affiliations. It focuses on the universal principles of energy alignment and self-awareness.
Can I incorporate chakra practices into my daily life after the course?
Absolutely! The course equips you with practical techniques that you can integrate into your daily routine to maintain chakra balance.
How do I get started with the Chakra Awakening Course?
Visit our website, find the course details, and follow the registration process to begin your journey toward chakra awakening and self-discovery.
Get Consult and Guidance Now
+971 566241002