Awaken Your Soul, Embrace Serenity: A Journey to Inner Harmony
Experience profound nourishment, relaxation,
and support during this all-inclusive Yoga & Ayurvedic
wellness retreat.
Where your wellness is our absolute concern!
From November 30th - 5th December, 2023
Calling all soul seekers and yoga enthusiasts! Immerse yourself in a transformative journey amidst the scenic beauty of Rishikesh at our exclusive "Awaken Your Soul, Embrace Serenity: A Journey to Inner Harmony."
Led by the esteemed Sumit Manav, a seasoned yoga practitioner with 25 years of experience, this retreat promises to be an unforgettable experience of self-discovery and holistic healing. Picture yourself basking in the enchanting aura of Rishikesh, a land renowned for its spiritual allure and ancient wisdom.
Awaken each morning to the melodious Ganga Aarti, a divine ritual that purifies your spirit and connects you to the sacred river's flow. Experience the serenity of the Kunjapuri Temple with early morning yoga sessions, absorbing the first rays of the sun in an enchanting vista.
Delve into the practice of Yoga and Ayurveda, learning from the very best. Our retreat seamlessly blends Ayurvedic wisdom with yoga, allowing you to harmonize your doshas and achieve holistic wellness. Bask in the tranquil ambiance of our retreat location as you deepen your yoga practice, meditate by the riverside, and embrace the serenity within.
RECLAIM YOUR INNER CALM & JOY
Discover your power to regain, recharge and rejuvenate
RESTORE YOUR BALANCE
This 6-days & 5-nights Yoga & Ayurveda retreat provides you with relaxing and rejuvenating services that will support you in your journey to creating renewed wellness and balanced life.
NOURISH YOUR BODY & MIND
Get away for an authentic yoga routine, meditation, ayurvedic massage & breathwork, designed to help you unwind and refresh.
REJUVENATE YOURSELF
Enjoy the personal attention of our experienced team of wellness yoga & professionals, here for you every step of the way as you discover your own potential to heal and restore.
Awaken Your Soul, Embrace Serenity
This Yoga & Ayurveda Retreat Includes:
Meet Your Yoga & Wellness Guides
The Yoga & Ayurveda retreat is overseen and managed by Sumit Manav. Sumit's journey began at the early age of 14 in a North Indian town in Uttar Pradesh (India). He then proceeded to the Himalayas, where he discovered Yoga as the path to human consciousness and overall well-being, under the spiritual guidance of Guru Shreeram Sharma Acharya. During his training, Sumit interacted with the mystics and it was this experience that brought him closer to understanding the physiology and psychology of the human body. 
2005, he earned his Post Graduate Diploma in Yoga Science and Human Consciousness from Haridwar in India, following which he started practicing as a professional Yoga Instructor. Today, with over 20 years of experience, Sumit continues to spread his wisdom of Yoga across the world (with his primary base in Dubai, UAE & the United Kingdom) by practicing and facilitating progressive yoga through dynamic asanas, pranayamas (breathing), meditation, spiritual and yogic counseling, reflex actions, yoga therapy and corporate wellness.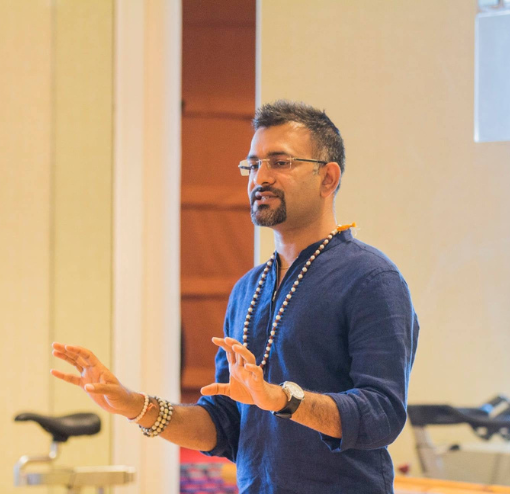 Itinerary, & Trip Terms & Condition